Herefordshire flag to fly over London at Christmas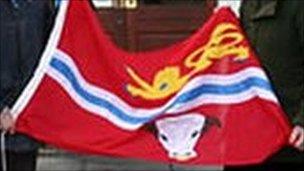 Herefordshire's flag has been chosen to fly above the Department for Communities and Local Government HQ in London over Christmas and New Year.
The department will fly each county's flag alongside the Union jack at Eland House in Victoria to celebrate their role in our national heritage.
Each flag is to fly for a week, starting in alphabetical order.
Because of the Christmas holidays, Herefordshire's flag would be displayed for two weeks, the council said.
Lord-Lieutenant of Herefordshire, The Countess of Darnley, said Herefordshire had a rich and diverse heritage of farming and technological innovation.
"For these reasons I'm delighted that Herefordshire is being recognised for all it is and stands for at this time of Advent," the countess added.
John Stone, chairman of Herefordshire Council, said: "Herefordshire is one of our most rural counties with agriculture still playing a vital role in the local economy.
"Herefordshire is proud of its past but is also looking forward to the future with high standards in its schools and colleges and wants our young people to stay and live and work in the county."
Related Internet Links
The BBC is not responsible for the content of external sites.