Heavy snow warning issued for Herefordshire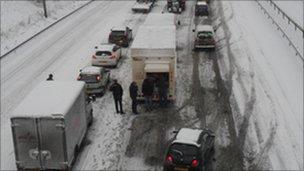 A snow warning has been issued for Herefordshire with between 5cms to 10cms (about 1.9ins to 4ins) forecast overnight.
The Met office also issued an ice warning for the whole region.
Herefordshire Council said it had to be "prudent" with salt stocks to ensure priority routes remained open.
The authority said it had moved to "a constrained level of service focusing on the priority routes" but snow would be cleared on secondary routes as well.
So far this winter the council has used 6,000 tonnes of salt.
It has 1,500 tonnes of salt in stock and a further 420 tonnes would be delivered this week, it added.
The council said regular stocks would continue to arrive from its normal supplier and a further 3,000 tonnes of imported salt, ordered at the start of December, was scheduled to arrive in January.
In addition to this, the council said it had put in its bid for salt from the strategic stockpile held by the Department for Transport.
Many bin collections were cancelled on Monday and the council said it would review the situation early on Tuesday.
Industrial waste collections were also affected by the low temperatures because the oil in the hydraulic bin lifters froze, preventing the bins from being emptied, Worcester City Council said.
It asked people to put their black bins out as normal on Tuesday but advised residents that it was unlikely they would be collected that day.
"Every effort will be made to collect them before the end of the week," a spokesman said.
Related Internet Links
The BBC is not responsible for the content of external sites.