Kidderminster 'special' retires after 35 years' service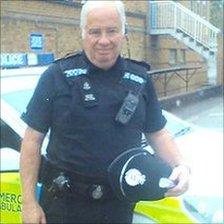 A special constable, who became a well-known figure patrolling the streets of north Worcestershire, has retired after more than 35 years' service.
Martin Starr, 58, who joined West Mercia Special Constabulary in 1975, said: "I thought it was a nice round number to finish on".
Mr Starr, who carried out four to six hours' policing a week, said the role and the force had seen many changes.
"It has been very rewarding over the years," he added.
Mr Starr has combined the voluntary role with a number of jobs, including working as a butcher and for Brinton Carpets.
He now works as a retail security officer, a job which his police role provided valuable experience for.
Mr Starr, who is married with three daughters, said he had learnt a lot as a volunteer police officer and gained a different perspective.
"I just wanted to put something back into the community and to make something of my life," he said.
Mr Starr has gained qualifications through the role, including in areas such as dealing with racist incidents, freedom of information and data protection.
He said: "In the beginning the role included football duties and covering special events, such as carnivals."
He said the job now mainly entailed patrolling the streets to make sure they were safe and dealing with incidents of anti-social behaviour.
West Mercia Police said Mr Starr had been promoted to a section officer in 1983 and had "stood out" in the role.
Special commandant Nick Marlow said: "As section officer, one of Martin's main priorities was to ensure his special constables were offered duty on a regular basis and to ensure their pastoral needs were catered for."
Mr Marlow said Mr Starr had completed 15,000 hours of duty over the years.
"This shows true and genuine commitment to West Mercia and more importantly to the community it serves," he said.
Mr Starr is considering writing a book about his experiences as a special constable.
He said it had been a "great privilege" to serve the force and the people of Kidderminster and Wyre Forest.
"I could not have done this without the support of my wife Joyce and daughters Sarah, Julie and Emma," he said.
"I would also like to thank all my fellow officers. It has been a great experience and is something I would happily do again."
He added he was already considering taking up another volunteer role appointing new special constables for the force.