Goodrich livestock saved from thirst by firefighters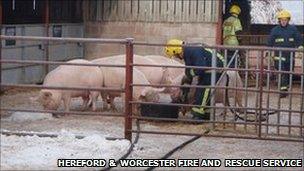 Fire crews have saved hundreds of farm animals in Herefordshire from dying of thirst in sub-zero temperatures.
Icy conditions over Christmas meant water supplies to 700 pigs and 40 long horn cattle froze.
Hereford & Worcester Fire and Rescue Service spent five hours filling up troughs on Sunday to ensure the animals could finally drink after two days.
Livestock at the Goodrich farm in Ross-on-Wye, drink 4,000 litres a day.
A sow and several piglets on the farm died from cold and dehydration on Christmas Day and Boxing Day.
The farmer said all of his water supplies, including a 1,000 litre bowser used for emergencies, had frozen solid and his rare breed of pigs and long horn cattle had not been able to drink for 48 hours.
Lack of water meant sows were unable to suckle their young.
Station manager Martin Lown, from the fire service, said: "Clearly the situation had reached a critical point and so we sent along an appliance from Whitchurch with a crew of six who were able to pump water to fill troughs and drinking barrels, to ensure all the animals could finally get some water."
Related Internet Links
The BBC is not responsible for the content of external sites.