Worcestershire neighbour tells court of body discovery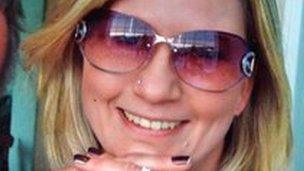 A man has told a jury how he discovered his neighbour's body after she was stabbed to death by her American husband.
Stephen Kennedy told Wolverhampton Crown Court how he found Lucy Landry - who had been stabbed 23 times - under a hedge in his Worcestershire garden.
He said he found the 38-year-old moments after hearing her screaming.
Her husband, Harold Landry, denies murdering her on 1 February 2010 but prosecutors say he admits killing her.
On Tuesday, the prosecution said the retired engineer, 64, would claim he was guilty of manslaughter rather than murder.
Giving evidence on the second day of Mr Landry's trial, Mr Kennedy said he had visited the Landrys' home on the Besford Court estate near Pershore on the night of the killing.
But around an hour after he left his neighbours' home, Mr Kennedy said he heard screaming and the sound of a male voice.
He told the trial: "I was just dozing, obviously trying to get some sleep. At that point I heard a scream."
Mr Kennedy said he recognised the voice calling out his name as that of Mrs Landry and said he got out of bed when he realised the sounds he could hear were "more than an argument".
Mr Kennedy told the jury how he then went outside to look for Mrs Landry.
"I ran across my drive and at that point noticed a figure in the hedge," Mr Kennedy said.
"I could then see it was Lucy Landry. I checked for a pulse and breathing. There was no sign of life."
The prosecution alleges that Mr Landry murdered his wife to stop her benefiting from their impending divorce.
The court heard on Tuesday how the defendant met his future wife on the internet about 10 years ago.
Mrs Landry, who is originally from South Wales, married the businessman after he travelled to the UK and their romance developed.
But by August 2009, the jury heard, their relationship had soured and both had started relationships with other people.
Related Internet Links
The BBC is not responsible for the content of external sites.