Residents back at home after Worcestershire farm fire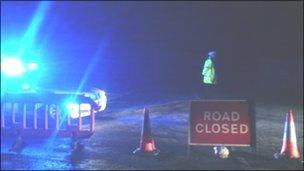 Residents who left their homes due to a farm fire were able to return about four hours after crews were called.
A 200m exclusion zone was set up as there were cylinders inside a farm shed at The Croft, in Green Street, Kempsey, Worcestershire.
At least 30 firefighters were called and more than 20 people left the area.
The fire service said crews, who left at about 2330 GMT on Tuesday, gave advice to the occupier over the safe removal of the cylinders.
The service, which was called at 1710 GMT, added it was not able to confirm the cause of the incident, in which nobody was injured.
Crews found a fire in a building storing farm machinery.
Residents left the immediate area, but were able to return at about 2100 GMT.
Some had gone to a local community centre while the incident was dealt with.
Three fire engines from Worcester, two from Malvern and one from Upton upon Severn were deployed.
Related Internet Links
The BBC is not responsible for the content of external sites.