Herefordshire and Worcestershire councils detail pothole figures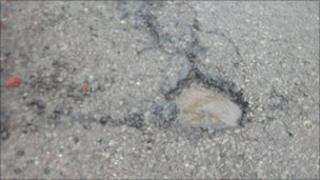 Herefordshire Council says it does not have enough money to adequately deal with all potholes in the county.
With a large amount of rural roads in the county, the council said heavy agricultural traffic could cause damage.
The authority, answering a BBC Freedom of Information request, said it has a capital budget of £8.1m for highways maintenance for the next financial year with the revenue budget yet to be set.
For 2010-11 the capital budget was £10,700 and the revenue budget was £692,000. The council also received a grant of £1m from the Department for Transport.
Worcestershire County Council said it had repaired 2,200 potholes so far this year.
It has recently completed a £15m urban road resurfacing programme and work had recently started on a £15m rural road resurfacing scheme.
'Craters on moon'
On Wednesday, the government announced it was giving local authorities in England a share of an extra £100m to repair potholes caused by last year's freezing conditions.
But councils have raised concerns that the overall road maintenance budget is being cut by more than £160m over the next four years.
David Sparks, from the Local Government Agency (LGA) said underfunding over many years meant the road networks will end up like "craters on the moon".
He said: "It's a well-known fact that there has never been enough money invested for over 25 years.
"The problem is getting worse.
"We just have to spend the money - it's not question of finance but of sheer necessity.
"We will literally get to a state like Cuba, like Africa.
"There will no longer be potholes but big holes in the roads like craters on the moon."
Clive Hall, highway network manager with Conservative-run Herefordshire Council said: "Herefordshire is a largely rural environment, lots of agricultural traffic, equipment is large and runs edges causing damage.
"This must be accounted for in how we maintain them.
"During this financial year we have spent £11.7m, made up of the local transport plan and just over £1m from the government following previous winters' damage and borrowed £1m to put into further road repairs."
It has paid out £8,949 in compensation relating to its roads in 2008-9, £13,023 in 2009-10 and £ 40,422 in 2010-11.
Conservative-run Worcestershire County Council said it had paid £195,460 relating to its roads in 2008-09, £221,045 in 2009-10 and £82,718 so far in 2010-11, the council said.
Charity Sustrans, which works with groups including communities and policy-makers about encouraging healthier and cheaper travel, said councils should spend their money on reducing speed limits to 20mph.
Spokesman Yvonne Gilligan said: "There are lots of benefits.
"It will improve health outcomes and save lives, driving at 20mph gives a 97% chance survival.
"I think councils have got money, it's a question of priorities.
"The health of children should move up the priority list."