Colwall's Malvern Water could be brought 'back to life'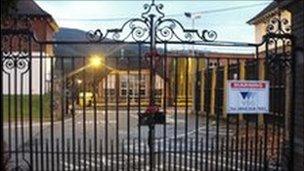 A number of prospective buyers have met to discuss the future of Malvern Water.
A meeting earlier chaired by North Herefordshire MP Bill Wiggin was also attended by current owners Coca Cola and property agents Strutt & Parker.
Mr Wiggin said it had been a positive meeting and a number of people were interested in buying the Colwall site.
Coca Cola, which owns both the business and the site as two separate entities, finished producing Malvern Water in November 2010.
Since then Colwall Parish Council has written to Prince Charles asking if his Duchy Originals company might be interested in taking over Malvern Water.
Vice chairman of the Parish Council John Mills said the community was concerned for the site.
"They're very emotionally attached to Malvern Water, it's been produced in the village since 1892 - they would love to think that it carries on," he said.
"The best outcome would be that someone can take on that business as a profitable business."
After the meeting, Mr Wiggin said: "I came away with a very good feeling but I don't want to raise people's hopes too high because it is a bidding process and anybody who wants to get involved should contact Strutt & Parker.
"The best bid will be someone who's got the best interests of Colwall at heart, that's what I'm hoping for anyway - I think it's an exciting turn in the story of Malvern Water."
A spokesperson from Coca-Cola said: "We recognise that there is significant local interest in the site and we also wanted to keep the local community up to date with our plans.
"We are extremely encouraged by the level of interest that was in the room... and we remain committed to ensuring we leave the site in a responsible manner.
They said Strutt & Parker was now following up with everyone who attended the meeting or had expressed an interest.
Related Internet Links
The BBC is not responsible for the content of external sites.