Upton flood defence work starts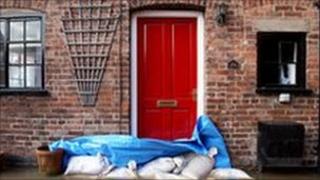 Work on the first permanent flood defences to be built in Upton-upton-Severn has begun.
Until now residents in the Worcestershire town have relied upon temporary barriers when the river floods.
The town's mayor Mrs Andrea Morgan said it was a positive step for Upton.
"Hopefully it's going to help Upton immensely - it was becoming more difficult to get your home covered by insurance," she said.
She also says there has been mixed feelings about the plans among people living in the town.
"There was quite a lot of opposition as there was acceptance for it - but the plans have been passed and hopefully when everything's up and going Upton will be able to move forward," she said.
The defences will be built in two phases - one for the New Street area at the back of the town and one for the Waterside area.
The first phase, which is due to finish in May, includes a bund made from clay dug out of the town's marina, a flood wall and flood gates across New Street.
The second phase, due to begin in September, includes a permanent flood wall with glass panels along the Waterside and five pedestrian gates giving access to the river.
It is thought the new systems will make it easier for residents to insure their properties.
Environment Agency Midlands Director, Mark Sitton-Kent said: "Flooding has severely affected the residents of Upton for generations and this flood scheme will improve the quality of life for many people in the town."
According to the Environment Agency, Upton has been flooded 70 times since 1970 and there has been property damage due to river flooding on six separate occasions within the last ten years.