Railway watchdog finds signalman 'error' led to death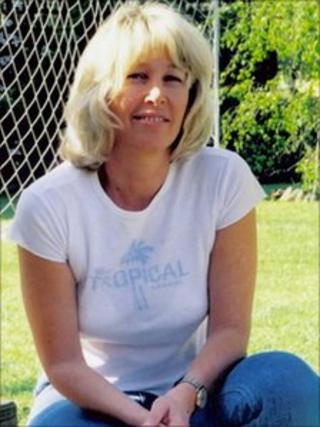 A female passenger in a car died on a level crossing because a signalman raised the barriers in error as a train approached, a railway watchdog said.
The signalman was distracted by a phone call and thought the train had passed in January last year, the Rail Accident Investigation Branch (RAIB) found.
He was arrested at the time, the report released earlier this month said.
Jane Harding, 52, died. The driver of the car was seriously hurt in the crash at Moreton-on-Lugg, Herefordshire.
A mother and her 11-year-old daughter in a second car suffered minor injuries.
'Call from farmer'
Ms Harding was a hairdresser from Marden in Herefordshire.
There were no casualties on the train which suffered damage but did not derail, the RAIB said.
The signalman was suspended after the incident by Network Rail, as standard procedure.
The 40-year-old was arrested on suspicion of manslaughter following the collision and released on bail while the British Transport Police (BTP) continued its investigation.
The report said it was the 0830 GMT Manchester Piccadilly to Milford Haven service which hit the two cars on the crossing.
The signalman had taken a call from a farmer who wanted to move his sheep across the line at a farm crossing some way up the railway line.
When he had finished the call, he thought the train had passed and raised the barriers, the watchdog said.
'No safeguard'
The signalman had almost 19 years railway experience, all of which had been as a signaller at Moreton-on-Lugg, the report found.
"The cause of the accident was that the signaller raised the barriers in error when the train was approaching and too close to be able to stop before reaching the level crossing," the report said.
"He had just been involved in an absorbing telephone call that had interrupted his normal task of monitoring the passage of the train.
"As a result he believed that the train had already passed over the crossing.
"There was no safeguard in the signalling system to prevent this from happening.
"There was no plan to fit such a safeguard, and no industry requirement to formally consider the safety benefits of one."
The RAIB said it had made four recommendations to Network Rail which included assessing the need for additional engineered safety measures at level crossings, like Moreton-on-Lugg and targeted improvements to its processes for managing risk at level crossings.