Worcestershire's Morgan launches new three-wheeler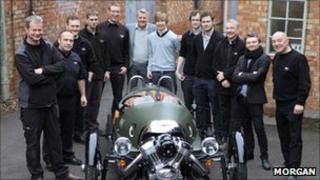 The Worcestershire-based Morgan Motor Company has launched a new three-wheeler sports car.
It is the first vehicle of its kind designed by the company to be manufactured in Malvern since 1953.
Head of Morgan Motors, Charles Morgan, said the idea was partly inspired by the rising costs of running a car.
Nearly 400 people have already placed deposits for the model, which has an S&S engine and Mazda gearbox and costs a minimum of £25,000.
'Green and economic'
The Malvern firm made 30,000 of the original Threewheelers between 1909 and 1953 and others were manufactured under licence.
The new car is called the Morgan 3 Wheeler.
"We're all down-sizing a bit and we're all very aware of our carbon footprint nowadays - and yet we still want the excitement of performance," said Mr Morgan.
"I think, rather like the early days when petrol was very expensive, now is the time to launch a vehicle with this sort of architecture."
Brian Clutterbuck, chairman of the Three Wheeler Club, hopes the new design will appeal to a younger generation of traditional car lovers.
"The main thing is it's modern technology and it will appeal to someone who wants to get straight into a car - if you've got something that's 70 or 80 years old it will demand a lot more attention," he said.
The car is being shown to the public at the Geneva motor show, which is being held from March 3 to 13.