Herefordshire Council leader Roger Phillips to leave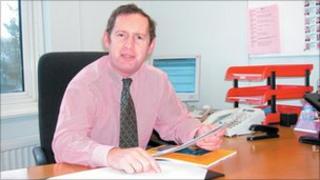 The leader of Herefordshire Council, Roger Phillips, is stepping down.
Mr Phillips is due to make an announcement not to seek nomination at the full council meeting on Friday.
He said he would no longer carry out the role he has had for eight years after the local elections on 5 May because of ill health.
But Mr Phillips said he would stand in the election and hoped to continue to represent his ward of Pembridge, Shobdon & Lyonshall with Titley.
Mr Phillips said he had decided a year ago not to continue as leader because he had a history of heart problems and an eye disorder and he had to attend a number of medical appointments as a result.
'Remain passionate'
He said: "Eight years is a long time to be a leader and I feel that with the support of colleagues in the party and in the council, I have made a strong contribution to the quality of life in Herefordshire.
"Following recent health problems I have decided it is sensible to take a step down from the leadership of the council.
"I remain passionate about Herefordshire and I aim to continue to champion at all levels the concerns of our communities and the continued improvement and value of our public services."
The Conservative councillor is thought to be one of the longest serving council leaders in the West Midlands.
He is a former chairman of the West Midlands Councils, Regional Transport Partnership and joint Strategy and Investment Board.
He continues to be vice chairman of the National Local Government Employers and the County Council Network.