Meadow Park Farm FC 'jeopardised' by £70,000 VAT bill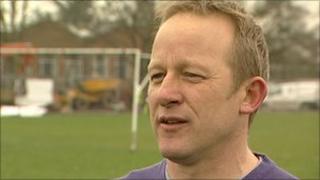 A community-run football club says its £70,000 VAT bill is putting it in jeopardy.
Meadow Park Farm football club runs 16 youth clubs around Bromsgrove in Worcestershire thanks to funding from the Football Foundation.
Club members have raised more than £300,000 for new changing facilities but are struggling to pay the VAT.
Bromsgrove MP Sajid Javid said the law was not clear, and promised to seek clarification for the club.
The club, which plays in the Bromsgrove first division, has leased pitches next door to Harris brush factory since 1948.
Paul Hutchins, chairman of the club and a BBC cameraman, said the VAT rise had hit the club hard and that the good work of volunteers helping the community was being undermined.
He said: "It went up and cost us another £6,500 on our bill so now we're looking at a £70,000 VAT bill depending on the figure, which is just obscene really.
"This is (about) people working day and night to get this project on the ground and we're hit with a £70,000 VAT bill which is putting the whole project in jeopardy."