Mother cries in court after daughter's death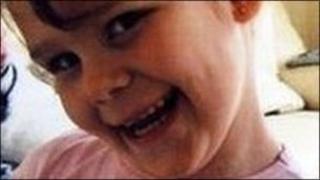 A mother sobbed as she told a court of her bid to rescue her two children from their father's car, minutes before it was driven into a Worcestershire river.
Christopher Grady, 42, denies murdering Gabrielle, five, and attempting to kill Ryan, six, by driving them into the River Avon in February last year.
Kim Smith, 37, said her ex-partner, of no fixed address, had warned her she had 10 seconds to say goodbye.
She jumped at a door handle, but he "went too quick", she said.
'Never going'
Gabrielle died in hospital and Ryan survived after being pulled from the water.
Miss Smith told Birmingham Crown Court Mr Grady had telephoned her on the morning of 11 February, warning her to be outside her home in Abbot's Walk, Evesham, to see her children for the last time.
She told the jury: "He said, 'They're never going to school again, they're coming with me'.
"The last thing he said to me was 'river'. His face was all contorted - vile. I jumped at the (car) door handle to try and open the door but he went too quick."
Miss Smith told the court she had become concerned about the welfare of her children when they did not arrive at school after an overnight stay with their father.
Jurors heard the couple argued on the telephone at about 0915 GMT, before Mr Grady arrived at Miss Smith's address with Ryan and Gabrielle in his car.
Miss Smith told the jury that her relationship with Mr Grady had been "volatile".
The court heard Miss Smith had contacted police in November 2009 following an argument with Mr Grady in which he allegedly told her: "If I can't have the kids then you ain't."
Jane Smith, a friend of Miss Smith who also lives in Evesham, told the court she was at the scene when Mr Grady arrived outside the house.
She said: "She (Kim) was saying, 'let me have my kids, let me have my kids back, let them out', but he kept saying no and then he said, 'they're going to die'."
The trial continues.