Herefordshire Council criticised for 'eyesore' repairs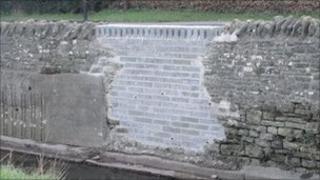 Residents have said a wall in their Herefordshire village has been turned into an "eyesore" after repairs were carried out using concrete blocks.
People living in Ewyas Harold have said Herefordshire Council spent four weeks patching a wall.
The council then put a sign up to say the repair was only temporary.
Herefordshire Council said contractors Amey were awaiting permission which would mean work could start on a £35,000 flood alleviation project.
Temporary traffic lights were put up while the work was carried out on a 3m (10ft) stretch of the wall which runs along the Dulas Brook.
Barry Thomas, who lives near the wall, said: "My problem is this is a small repair which took four weeks to do using 51 cones, 27 road signs, eight people on site at various times, tonnes and tonnes of sand and cement and traffic lights going for four weeks.
"It's ugly, it's ridiculous and it goes against the village design."
Businessman Adrian Phillips said he has offered to donate stone from his quarry company because he is so incensed.
He said: "It's a complete eyesore, it's just a complete waste."