Public asked to help create art for Worcester cycleway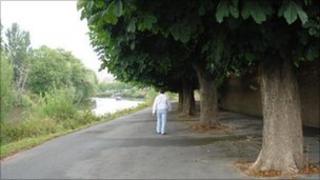 People in Worcester are being asked to help create hundreds of pieces of public art along a new cycleway.
There will be 275 points along the path between Worcester Bridge and Diglis Bridge, where people will be asked to sketch their experiences.
Artist Rob Colbourne will create a piece of art based on the sketches that people come up with.
The cycleway opened in the summer of 2010, and includes a new bridge across the River Severn, at Diglis.
Lottery funding
The new route was funded by the Big Lottery, Sustrans, Worcester City and Worcestershire County Councils.
Katy Hallett, from Sustrans, the charity behind the national cycle network, said: "The final artwork will reflect what the area means to local people."
She said: "You don't have to be an artist to contribute, we want everyone's thoughts and ideas."
Sustrans said many different groups, including healthy walking groups, environmental organisations and schools, had already signed up to help gather information about the landscape, the city and their own memories and thoughts, which can feature in the artwork.