Grant of £700k for post-16 education in Worcestershire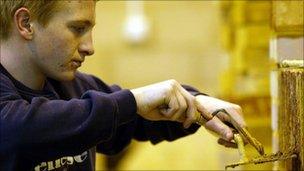 Worcestershire County Council is getting £700,000 to encourage more young people to continue their education beyond the age of 16.
It will mean more opportunities to pursue full-time education, work-based learning or part-time education.
The council said it will help avoid people becoming 'Neets' - not in education or employment with training.
Marcus Hart, the council's cabinet member for education, said it was good news for Worcestershire's young people.
"It will enable us align the valuable work to support off-school-site vocational learning," said Mr Hart.
RPA is part of the Department of Education's plans to raise the legal age of leaving school.
The Education and Skills Act 2008 means young people will be required to continue in education or training to the age of 17 from 2013 and up to the age of 18 from 2015.
John Edwards, the council's head of learning and achievement, said: "It is good news for the young people in Worcestershire, especially those currently in Year nine, who will be the first cohort to experience the raising of the participation age in 2013."
Related Internet Links
The BBC is not responsible for the content of external sites.