Gangmaster warning for Worcestershire growers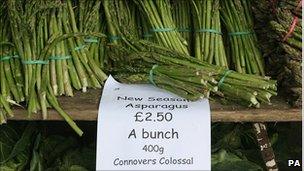 Growers in Worcestershire are being warned to check they are not using illegal workers.
Chris Brooks, from Wychavon District Council, said that simply using a licensed gangmaster may not be enough.
"If the Gangmaster Licensing Authority do an inspection on Monday and all is well, by Tuesday illegal workers could be in place." he said.
In October 2010 seven Romanian children were found working in a field in Worcestershire.
The children, who were between the ages of nine and 16, were taken into police protection.
These include advising growers to:
Check the status of any gangmaster they are considering using with the Gangmasters Licensing Authority
Check the status of each person entering their workplace, including passports, visas and other forms of ID
The guidelines have been drawn up incorporating some of the issues raised at a Grow In Confidence conference, organised in February 2011 by the council for local agricultural businesses.
In 2006 the council carried out an audit looking at the number of temporary workers employed in the Vale of Evesham, and found that there were:
2,500 migrant workers living in the area and working for local growers
Between 500 and 1000 temporary workers coming in on a daily basis
Mr Brooks said demand for workers could change very quickly: "This is usually at the behest of the customer - a supermarket rings up and says they want 100% more than the usual supply of salad onions."
He says demand for temporary workers had increased since modern farming techniques made the growing season longer.
Salad onions are now harvested four times a year, between March and November, and tomatoes are grown year-round.
Related Internet Links
The BBC is not responsible for the content of external sites.