Rubery Youth Centre occupied overnight by protesters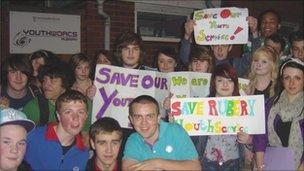 A Worcestershire youth centre has been occupied overnight as a protest over closure plans.
Jasmin Millward, 19, helped organise the sit-in at Rubery Youth Centre: "This is a safe place where young people can be without their parents having to worry about them."
Liz Eyre, from Worcestershire County Council, says there was now a reduced budget for youth services.
"We're going from a £3.5m budget to a £1.1m budget," she said.
Around 50 young people took part in the protest outside the centre, with parents turning up as well to offer support.
The overnight sit-in at the building involved around 15 young people.
Councillor Peter McDonald, from Worcestershire County Council, feels that the centre has proved its worth.
"The youth centre over the last two or three years has contributed to crime associated with young people decreasing in this area by 38%, and I'm sure there's better ways of cutting back than attacking young people," he said.
Related Internet Links
The BBC is not responsible for the content of external sites.