Lion dung keeps otters away at Whitbourne fishing club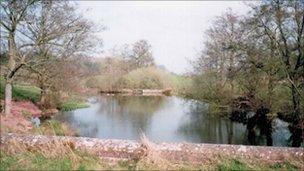 Members of a Herefordshire fishing club are spraying lion dung on their pools to keep predators away from the fish.
Whitbourne Angling and Associates are mixing a small amount of dung with urine to spray on the pools.
Club secretary Ian Miller said they had experienced problems with otters and the consequences could be costly.
"You expect a certain amount of mortality but otters can do an awful lot of damage - it's cost us £600 in the last 18 to 24 months," he said.
Whitbourne Angling and Associates have £6,000 worth of fish in its pools spread across the border of Herefordshire and Worcestershire.
Mr Miller said there was no smell from the mixture, which had come from London Zoo: "We don't spray all the time - otters are fairly intelligent creatures so it's the intermittent factor that works."
He also said it was important to try 'passive' methods of deterring predators for the benefit of angling as a sport.
"The surrounding area relies heavily on rural diversification - believe it or not the angling side of it brings a lot of money to the local economy," said Mr Miller.
Under the Wildlife and Countryside Act 1981, otters are protected and cannot be killed.
A spokesperson from the Environment Agency said: "We don't have any evidence lion-dung spray is a long-term solution, but we're interested to see how they get on.
"We would be pleased to see any evidence which suggests this is a successful and harmless method for reducing the impacts of otter predation at still water fisheries."
Related Internet Links
The BBC is not responsible for the content of external sites.