People with special needs in Herefordshire get vote help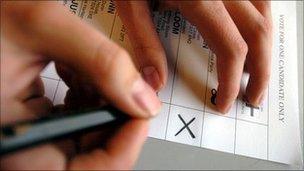 People with special educational needs in Herefordshire are being encouraged to vote in forthcoming elections.
Herefordshire Council and Mencap are organising a workshop to explain how the voting system works.
John Jones, from the council, said it wanted people to know what kind of support was available.
"We want all those entitled to vote to be given a chance to understand the democratic system," he said.
At the workshop there will be the chance to practice using voting booths and the ballot box.
The workshop is free and is being held on Thursday, 14 April from 1030 until 1300 BST at Hereford town hall.
Elections take place on Thursday, 5 May to elect councillors to Herefordshire Council, which is currently controlled by the Conservatives, as well as for parish and town councils.
At the same time the referendum on the new parliamentary voting system will be held.
Related Internet Links
The BBC is not responsible for the content of external sites.