Malvern engineer awarded medal for work in Iraq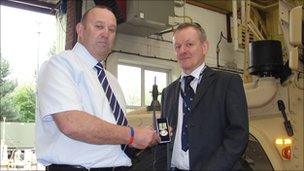 A defence worker from Worcestershire who helped troops in Iraq has been awarded a campaign medal.
Geoff Lattimer, who works at Dytecna in Malvern and is not in the forces, got the medal for work on new military equipment and technical support.
The civilian spent 50 days in Iraq and said he experienced "warnings of incoming fire" every day in one week.
The project engineer added it was a total surprise and honour to receive the medal.
He said: "I was just the front man who was just out there making sure it all fitted and worked."
Mr Lattimer said he had had hostile environment training, but "it was a little different when I got there - it was reality".
He added: "You come out of the airport, you come out, you put on body armour, helmets and then you're transported to your destination and then it hits you.
"Guns everywhere, various security people, and you see all the telltale signs of past incidents, but it is an eye-opener."
Mr Lattimer described the equipment as a "life-saver".
He said: "I just feel proud that we've helped them in their job."
Dytecna, which employs 200 people in Malvern, said the honour was "just recognition" on behalf of what it had done as a business to help support the troops.
Keith Mowbray, who is part of the management team, said: "It's well deserved, he did a very difficult role in a short time and did extremely well."
Related Internet Links
The BBC is not responsible for the content of external sites.