Teme bridge closes for archaeological investigation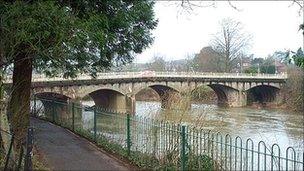 A historic bridge in Worcestershire is being closed on three Sundays to allow archaeological investigations.
Teme Bridge in Tenbury Wells dates back to 1390 and is due to be extensively refurbished.
Richard Attwood, from Worcestershire County Council, says they will keep disruption to a minimum.
"This is a particularly challenging project not least because of the nature of the historic fabric," he said.
The work will involve digging through the carriageway surface to confirm various elements of the historic fabric of the bridge.
The work is needed to satisfy the requirements of English Heritage and archaeologists who oversee the maintenance of the country's national heritage.
The bridge will be closed on 8 and 22 May, with a contingency for the 5 June.
Work at the sides and underneath the bridge will be started at the latter end of this summer.
Related Internet Links
The BBC is not responsible for the content of external sites.