Worcester University to charge £8,100 from 2012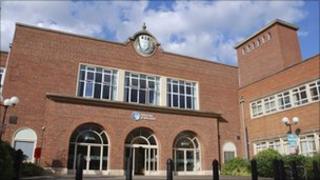 The University of Worcester has announced plans to charge £8,100 in annual tuition fees from 2012.
Vice chancellor Professor David Green said the decision was due to cuts in central government teaching grants.
"We've lost £19m of the £22m that we get for undergraduate teaching so we've done some very careful calculations," he said.
President of the students' union Michael Collins said the hike in fees was disappointing but justifiable.
"I really do believe £8,100 is right but only because of the difficult situation the university is in," said Mr Collins.
He also said the union had been involved in the decision-making process: "The union's played its part in terms of influencing the university in terms of what kind of student experience it will offer.
"The key for Worcester now is to keep investing in students to ensure that those from lower socio-economic backgrounds keep on going to university."
Prof Green said the university would also be introducing a scholarship scheme.
"There'll be a couple of hundred students who'll have the opportunity to compete to get a scholarship that's worth £3,000."
He also said students at the university's further education partnerships, including Hereford College of Technology, would be charged £6,000.