Worcester golfer hits two holes-in-one in single round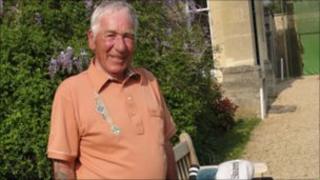 A golfer from Worcester, who has survived four heart attacks and eight brain aneurysms, has shot two holes-in-one in a single round of golf.
John Richardson was playing in a seniors match at Worcester Golf and Country Club.
He said: "The two who me and my partner played against just could not believe how I was playing."
The 66-year-old, who has a handicap of 11, hit the holes-in-one on the eighth and thirteenth holes.
He has been a member of the club since 1997 and has overcome a number of health problems.
"I had my first heart attack aged 39, (have had) three more since then and three big brain operations for eight aneurysms, which they reckon is some kind of record too," he said.
"I can't praise the NHS highly enough - I'm still here and I'm still playing golf."
'Truly amazing'
A spokesperson from the Professional Golfers' Association said a hole in one was something of a rarity.
He said: "To have two in one round is a little short of remarkable."
"Obviously we'd like to congratulate Mr Richardson and hope his celebratory bar bill was not too punitive."
Peter Treadwell, the club secretary, said it was an incredible feat.
"What John has achieved is absolutely remarkable - I don't think he even realises how remarkable it is himself," he said.
"Golf pros spend their whole career trying and don't even get one hole in one - it is truly amazing."
Mr Richardson said: "It's all to do with concentration."