Keralan community marks Jesus's death on Malvern Hills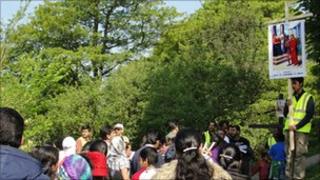 Hundreds of people from the UK's Keralan community have been in Worcestershire to remember the moments leading up to Jesus's death.
More than 1,000 Christians spent Good Friday on the Malvern Hills to mark the 14 Stations of the Cross.
Father Soji Olikkal, who works in the Diocese of Birmingham, said it is customary for the Keralan community.
"We have many mountains and hills so people from Kerala like to mark the way of the cross here in Malvern," he said.
Biju Chacko, who lives in Malvern, said it is the perfect place to carry out the traditional procession because it mirrored the way they mark the Stations of the Cross.
"It clearly reflects St Thomas's Church at Marthomalayam - the church is a popular pilgrim centre and it is believed to have been sanctified by St Thomas and is on top of a hill," he said.
The route started on the edge of Upper Colwall near the Wyche cutting and followed the path leading up to the Worcestershire Beacon.
The event was manned by 100 volunteers from the Keralan community who had sought approval from the the Malvern Hills Conservators and Malvern Hills District Council.
Keralan tradition
John Jacob, one of the organisers, said: "It's all about the passion of the Christ - we are doing it just to commemorate what Jesus has been through.
"The people have come to observe Good Friday in the way they are used to in Kerala, they've come in groups and will be praying, singing hymns, devotional songs."
It is the third time the Stations of the Cross has been marked on the hills, starting at 10am and ending with refreshments when many of the members of the congregation broke their fast.
Mr Jacob, who lives with his family in Worcester, said the Keralan community in the area is growing: "We have 110 families - that's about 250 people - in Droitwich, Malvern, Worcester and Herefordshire.
"Many of us work for the NHS and moved here between 10 and 15 years ago - we've settled in Worcestershire or Herefordshire because it's convenient."
He also said there is a strong Catholic faith among the Keralan people: "Most of us go to St. George's Church at Sansome Place (in Worcester) and also we have a service delivered in our local language on the second Sunday of each month."