Big Chill Festival near Ledbury given permanent licence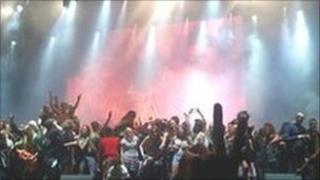 The Big Chill Festival has been granted a permanent premises licence for its base at Eastnor Castle, near Ledbury.
Herefordshire Council's regulatory sub-committee gave the go-ahead on Wednesday to the application by Festival Republic Limited.
It requested that the festival take place over the first or second weekend in August each year.
The application also extended the duration of the festival so music fans will be able to arrive on Wednesday.
The "early bird" option is aimed at reducing traffic, the applicant Melvin Benn said.
Live music will be allowed from Thursday to Sunday.
The date of the festival can change "subject to unforeseen circumstances" and be held between 1 June and 1 September if it is agreed by a panel of representatives from the council and emergency services.
Two objections to the application were received from parish councils and five from members of the public.
'Total despair'
Colwall Parish Council made a representation on behalf of 10 residents saying they objected to increasing the length of the event to six days as well as granting a permanent licence.
The letter said: "Many residents find the noise so offensive they move out over the weekend out of total despair."
A council spokesman said another resident wrote in to say that The Big Chill benefited the village of Colwall with festival-goers using the shops, residents getting tickets at a discounted rates and some of last year's ticket profits being donated to the village school.
Mr Benn said he was willing to work closely with the community and local authority so the Big Chill event can "get better" and benefit the economy of the local area more.
The application was granted with a condition that the organisers set up a liaison group after every festival so that residents can air any concerns they may have with the applicant, the council and other interested parties such as the police.
Another condition also required that the music from the main stage ceases on the Sunday at midnight.
The licence also confirmed that all music from the event would cease at 0300 rather than 0500 on the first and last night.