Meaning of love in Bishop of Hereford's Easter message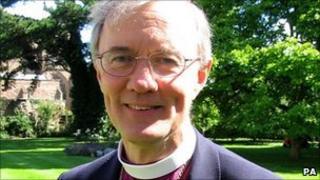 A bishop has congratulated Prince William and Kate Middleton in his Easter message as he called on people to understand the true meaning of love.
The Bishop of Hereford, the Right Reverend Anthony Priddis, used their example ahead of Friday's wedding.
Bishop Priddis said "love expects and wants to go on and on".
In his message, the Bishop of Worcester, the Right Reverend Dr John Inge, said what happened at Easter was as important as Christmas.
'Not like that'
Bishop Priddis said: "When two people say to each other 'I love you', they want and intend that love to last.
"It would be absurd to say 'I love you, but I may not love you tomorrow'.
"True love, love at its best, is not like that...
"When Jesus rose from the dead on the first Easter morning, it was because his love could not be killed."
Dr Inge said Easter "answers all our deepest pain, anxiety, grief and even death itself".
He said: "In short, Easter makes clear that life has a purpose beyond the here and now...
"What happened at the first Easter is at least as important as what happened on the first Christmas."