Hereford Cathedral to fly new flag for royal wedding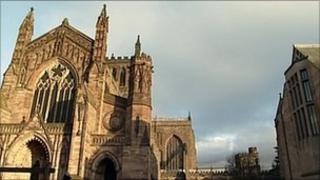 Hereford Cathedral has purchased a new flag that will fly for the first time on Friday for the royal wedding.
The St George's Cross, measuring 12ft by 6ft, also features the diocesan coat of arms in one corner.
The old flag was beginning to look weather-beaten so cathedral staff decided to invest in a new one in time for the wedding.
The flag will be flown from the central tower on special occasions such as church festivals and royal birthdays.
The Reverend Michael Tavinor, dean of the cathedral, said: "The old flag was becoming increasingly tattered and we had planned to commission a new one for the completion of the refurbished Cathedral Close but the royal wedding seemed an ideal occasion to launch it earlier than planned.
"The new flag is much bigger than the old one and will be seen from miles around."
The arms of the Diocese of Hereford are those of Bishop Thomas Cantilupe, Hereford's most famous bishop, canonised before the Reformation, depicting three inverted leopards' heads.
The flag will be hoisted after a short service of dedication on the tower at 0715 BST on Friday.