Royal wedding celebrated at Ross-on-Wye church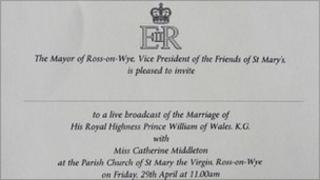 People in Ross-on-Wye are being invited to watch a live broadcast of the royal wedding on Friday.
Invitations have been sent out to 100 guests for the event starting at 1100 BST at St Mary's Church, which is 800 years old like Westminster Abbey.
Ross mayor, Mrs Jo Lane, said organisers were hoping for donations towards the new church hall too.
Other churches in Herefordshire are also planning to show the wedding of Prince William and Kate Middleton.
Mrs Lane, who is also vice president of the Friends of St Mary's, said the dress code at St Mary's would be morning coats, uniforms or suits.
"It's a good opportunity to get that hat out and put their wedding finery on to join us for the whole day.
"It's a good way of fundraising and commemorating a special day for a long, long time," she said.
Organisers are hoping the congregation will be able to sing the same hymns as those in Westminster Abbey and the service will be followed by canapés, champagne and cake.
Wedding first
Deputy town clerk Rachel Lewis said the screening was not motivated by making money.
"I think the idea of the wedding was first and then we thought it would be nice if people would like to give something in memory of them," she said.
Among other items, the Friends of St Mary's are looking to fund a new disabled toilet, internal doors, kitchen sink and a kitchen work top.
Other churches across Worcestershire, including those in Lye, Quarry Bank and Inkberrow will also be showing live broadcasts of the event to its parishioners.