Malvern garden gets two lions and a baboon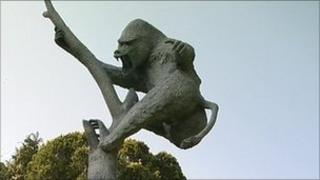 A life-sized sculpture of lions and a baboon has been put up in a Malvern garden.
The 15ft (4.5m) high stainless steel sculpture weighs three tonnes and features the big cats at the foot of a tree, straining towards the monkey at an upper branch.
Worcester-based sculptor Sandy O'Connor said the work fulfilled a long-held ambition.
"I just wanted to make a big sculpture - African animals have always been a favourite of mine, " he said.
'No gnomes'
The sculpture, called The African Project, has been put up in the garden of 84-year-old art collector Derek Francis.
"We got a crane and a lorry and we put The African Project in the corner of the garden because I went into the garden centre and saw it and realised there was only one place for it… it completes the garden and it's marvellous."
Mr Francis already has three other sculptures by Mr O'Connor, including a large dragon.
His wife Susan does not see the garden art as unusual.
"They are just more interesting than garden gnomes or Grecian nymphs - in fact we hate garden gnomes and we originally got the dragon to make sure we didn't get any," she said.