Hereford High Town fire site 'may take years to redevelop'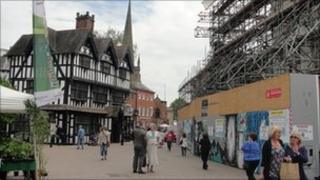 The Civic Society in Hereford has warned it could take years to redevelop an area of the city centre which was destroyed by fire last year.
Scaffolding and boards still surround buildings in High Town that were gutted in October 2010.
Garry Thomas, the chairman of the Civic Society, said there was no quick fix.
"I'm not surprised it has taken six months really, and I think we should be thinking of this in a number of years rather than months," he said.
Lost trade
He said the delay was due to the length of time it took to trace who owned the leases to the damaged buildings and the fact that High Town is a conservation area.
"Red tape does slow things down and ultimately we live in a culture where there is much more red tape today than there was 10 or 15 years ago, so ultimately construction does suffer those sort of pressures and delays," he added.
Janine Jarrett, the manager of the Bonmarche clothes store next door to the site, said the repair work had damaged the business.
She said: "There are some posters on the scaffold boarding saying that we are open as usual, but unless you're about 8ft high it's a bit difficult to see them.
"In terms of trade we are probably down anywhere between 5% and 20% on last year's figures."