Malvern family's day care support fears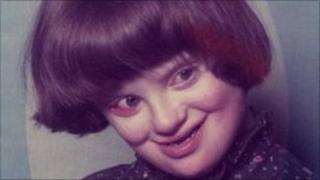 A couple have said they will not be able to afford care for their daughter who has Down's syndrome if the daily cost rises by more than £60.
Barbara Rowan, of Worcestershire, said her daughter Clare, who cannot speak, depends on attending Malvern Social Education Centre.
It comes as a BBC survey suggests Worcestershire County Council's adult social care budget has gone up.
"Without it her life would be very limited," she said.
Mrs Rowan, 66, said her daughter had benefited from the support and activities at the centre she attends five days a week for 19 years.
She said: "Clare doesn't speak but she loves the interaction and the chit chat and sitting amongst people her own age."
According to the council, the cost, per day, of providing a place for someone in a day centre is £65 but service users pay a maximum of £4.60 per day.
'Letters of doom'
Mrs Rowan and her husband do not currently have to pay for the cost of the day centre due to their financial circumstances.
She said they had received letters from the council saying they could have to pay in excess of £60 for each day.
Clare will be assessed by the council to determine whether the family will have to pay for her costs.
They pay £20.40 each week in transport costs for Clare to get to and from the day centre but this could also increase to more than £10 a day.
Mrs Rowan said Clare's condition was so severe that she relied upon the day centre.
She said: "It's like looking after a giant baby, the thought of having Clare at home all day would be unbearable.
"We don't have big money coming in - we couldn't afford £300 plus a week, we just keep getting all these letters of doom."
The family moved to Malvern 30 years ago and said the centre was built four years later.
Mrs Rowan said she was surprised to learn the council's budget that covers the costs of the day centre appeared to be increasing.
She said: "I'm amazed at that - there always seem to be a lot more money being pumped into young people but it seems once they reach adult age, the money just seems to be disappearing."
The council's consultation, Fairer Charging Policy in Adult Social Care, is due to end this month.
A BBC survey conducted with the Chartered Institute of Public Finance and Accountancy (CIPFA) suggested that the county council's adult social care budget would rise by an estimated 11%.
A council spokesman said the latest figures meant the budget had risen by about 3% and that adult social care was a priority.
It said it had to save up to £70m by 2015 and all areas were being looked at for efficiencies.
Philip Gretton, cabinet member for adult and community services said: "We know that if the proposed changes come into force it would mean some service users paying more for their care.
"But only those whose financial circumstances dictate they can afford to pay more would be affected; the majority of services users' charges would remain the same."