Herefordshire bite allergies blamed on Blandford fly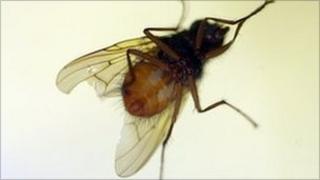 A rise in allergic reactions to bites being reported to doctors in Herefordshire has been blamed on the Blandford fly.
Doctors believe the bites may come from the small black insect, which has caused similar problems in Dorset.
Dr Paul Harris from Belmont Health Centre in Hereford said each doctor at the practice is seeing around five cases a week.
"We've seen some that can be the size of your palm across and very swollen, red and inflamed," he said.
Andrew Thomas, from Lugwardine, Herefordshire, and other members of his family, were badly bitten.
'Cloud of flies'
He believes the flies were attracted to a water feature in his back garden.
"When we were sat out enjoying the lovely summer weather we were having we'd suddenly see a small cloud of black flies that would be more annoying than anything.
"It wasn't until the next day that we'd realise we'd got bites that seemed to get worse and worse. The infection can be quite bad."
Dr Harris said that although the bites are uncomfortable and irritating, most people will recover.
"It's only if you show signs of an infection that anything needs to be done, so if you have a high temperature, if you start to feel unwell, or if the infection starts to track in lines up the infected limb," he said.