Training in bell ringing offered in Herefordshire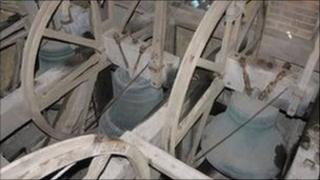 Bell ringers in Herefordshire are holding a recruitment drive to ensure there are enough people able to keep church bells ringing.
Ledbury and District Ringers are offering a five-part course at Cradley church in Herefordshire.
Tutor Frank Seabright says currently churches have to help each other out.
"If one church is a bit short others will go and join them, but each tower could do with another two ringers each," he said.
Practical lessons
When people begin learning the clapper of the bell is tied so that there is no noise as they practise.
Mr Seabright says they are trying a new "bottom up" method of teaching, where the new ringer progressively makes the bell swing more and more until it is turning a complete circle.
They will also be given a tour of the tower so that they understand the mechanics of bell ringing.
"I think it's really important that they understand when they pull on a bit of rope down here what is happening upstairs," he said.