Clock in Upton's 'pepperpot' tower stopped by jackdaws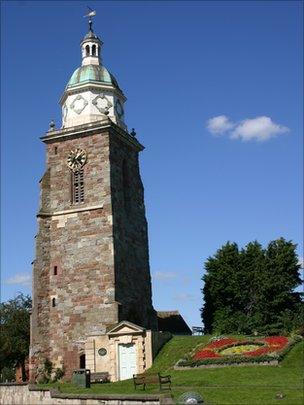 A family of jackdaws has stopped the clock in a medieval church tower in Worcestershire.
The "pepperpot" tower in Upton upon Severn still bears the scars of fighting during the Civil War.
Simon Smith, from Malvern Hills District Council, climbed the tower with an engineer and found the jackdaw's nest.
"I clambered up as far as I dared and found a great ball of mud that is jamming up the hands," he said.
The clock had not worked for six weeks but it was not until Tuesday that the cause of the problem was discovered.
The jackdaws, which had got into the tower through the clock face, made their nest around the spindle that controls the hands.
Mr Smith said the birds would be left undisturbed until their chicks had left the nest in about a month.
He said the council would then face the challenge of stopping the jackdaws from getting into the tower again.
The tower is all that is left of the medieval St Peter and St Paul Church.
Before the Battle of Worcester in 1651 it was the scene of fierce fighting, as Royalist troops tried to prevent Cromwell's army crossing the River Severn.
Bullet holes from the fighting can still be seen in the stonework.
The tower was originally topped by a steeple but when this became unsafe in 1770 it was replaced with a cupola, which gave rise to the pepperpot nickname.
The knave of the church was demolished in 1937, and in 1953 the tower was declared an ancient monument.
It now houses the town's heritage centre, and the garden around it contains a memorial to Admiral William Tennant, the man who organised the Dunkirk evacuation in World War II.
Related Internet Links
The BBC is not responsible for the content of external sites.