Evesham balloon festival announces live band line up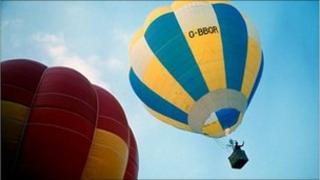 The winners of a talent contest and eleven local bands will be playing at the Evesham Balloon Festival.
The winners of the W Factor talent contest, run by Wychavon District Council with be on stage at midday on Sunday, 5 June.
There will be live sets from 11 local bands from 1230 BST on Saturday 4 June.
The final band will play at 2100 BST as the balloons prepare to take off for a "night glow".
The bands playing are:
Fighting Shadows, a four piece acoustic rock
Keep The Change, a new young original pop punk trio
Touch, a young local band influenced by Kiss and Van Halen
Bang Bang Billie, a female fronted local band who play soul and modern classics
The Marabooboo Allstars, doing covers from from the 80's to the 00's
Ra Ra and The Vine Project, a young female fronted band, playing original music and the odd cover
Fifteen English Pounds, featuring classic rock covers
Into The Fire, indie pop rock originals
The Road Hogs, playing classic covers
Crazy 88's, a local covers band
KTO, formerly Kathleen Turner Overdrive