Herefordshire drugs raids: 18 arrested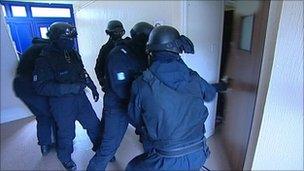 More than 100 officers have taken part in an anti-drugs operation in Herefordshire resulting in 18 arrests.
Police raided 25 sites in Hereford, Leominster, Ross and Bromyard on Wednesday and seized about £5,000 worth of crack cocaine, cannabis and heroin.
Officers also found weapons including a gun and £1,000 in cash.
Of the 18 people arrested, nine were charged with drugs offences and bailed. One man was also arrested in connection with a firearms offence.
Another man was arrested on suspicion of burglary and one man was arrested for failing to appear before authorities.
The nine who have been charged are due to appear before Hereford magistrates on 8 June.
Wednesday's raids was the culmination of a three-week long operation, in which 15 other people were arrested and nine were charged with drug dealing offences, making the total people charged 18.
Det Insp Martyn Barnes of Herefordshire Criminal Investigation Department said: "Herefordshire does not have a particular problem with drug dealing, but like many other areas close to the West Midlands, we have a long-standing issue of organised crime groups sending drug runners to deal in our area."
Related Internet Links
The BBC is not responsible for the content of external sites.