Astley church saved from closure by non-churchgoers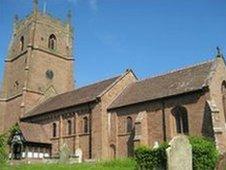 People in a north Worcestershire village have raised £250,000 to restore their local church.
St Peter's in Astley was threatened with closure five years ago because it had fallen into a state of disrepair.
Peter Archer, the chair of the Friends of St Peter's Astley, said they formed the group in order to save the church.
He said: "A lot us thought, 'we're only here for a short time, it's been here for 900 years - surely we can't let the church close'."
Members of the group, not of all of whom go to church, raised the money to repair the main roof and tower roof as well as install a new toilet.
Over the last five years they have held events such as fetes and art exhibitions, and also won grants from Community First as well as the Worcester and Dudley Historic Churches Trust.
Mr Archer, who has lived in Astley for 30 years, said it was not just the 40-strong congregation which cared about the the building.
He said: "It's a Grade I listed building so lots of people are interested in it for that reason - it's a great monument to history and we've got to look after it."
Related Internet Links
The BBC is not responsible for the content of external sites.