Worcester history project looks to remember almshouses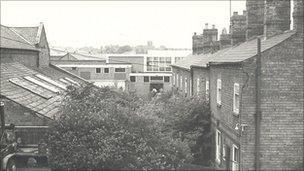 People with connections to nine former almshouses in Worcester are being asked to contribute to a history project.
Staff at Worcestershire Records Office want to hear from people who had relatives living in the buildings which were demolished in the 1970s.
Justin Hughes said he was hoping to capture their history.
He said: "We know there are people out there who will have their own personal memories of people living in them and how they lived their lives."
The almshouses used to stand on the site where the city's new Library and History centre - or Hive - is currently being built.
'Part of Worcester's history'
It is thought they were closed and knocked down because a few of the nine properties had not been occupied for a number of years.
The site was then used as Worcester City Council's transport depot.
The History Centre at the Hive will showcase the life of the city of Worcester through the centuries.
Mr Hughes said the almshouses are an important part of Worcester's history.
"They were made possible by a man called John Nash who entrusted the almshouses to the people of Worcester in his will of 1661.
"He made a bequest before he died where he identified parts of land to make sure people in need had somewhere to live."
Mr Hughes said they are part of a national tradition too and appear to date back to the monastic movement in the 11th or 12th Century.
He said: "Here in Worcester a hospital was founded in St Wulstan's name so the tradition of providing accommodation or helping people in need goes back a long way."
Anyone who wants to contribute to the project can contact Mr Hughes on 01905 765926.
Related Internet Links
The BBC is not responsible for the content of external sites.