Bromyard festival will include 'first' hop pocket race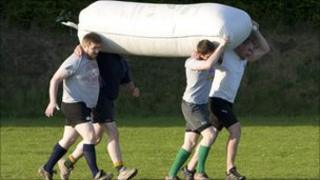 Organisers of a Herefordshire festival have invented a new race, which they hope will attract people from as far as Europe and America.
The first Bromyard hop festival will feature the hop pocket race.
Teams of four will follow a course carrying a full hop pocket, weighing about 70kg (150 lbs).
Chris Barltrop from the festival said: "We were looking for a unique event and the 2011 winners will be declared world champions."
Mr Barltrop hopes teams will join in from other countries such as America, Austria, Germany and the Czech Republic as well as Britain.
Members of Bromyard Rugby Club have tested the idea by running with a full hop pocket at their training ground.
The event taking place on 3 September will include a parade of horse-drawn and vintage vehicles, a funfair, an art market and a screening of archive footage of hop farming in the 1970s.
The Wye Valley Brewery is also making a special beer called Hop-Stringer for the festival.
Mr Barltrop said: "It's a chance for those who may have come hop-picking here in the past to join in the fun and celebrate the hop."