Circus offers 'clown-selling' for people's big-top fear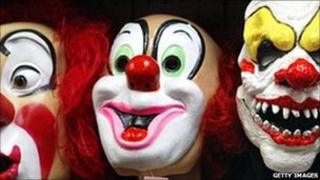 A circus in Worcestershire is offering people "clown-selling" to get over their fears of the smiley entertainers.
Paul Carpenter, who performs as Popol the Clown, will be offering the therapy at John Lawson's Circus when it visits Studley from 24 to 26 June.
He said he had noticed an increasing number of people telling him they suffered from coulrophobia - fear of masks and disguises.
He said he thought horror films with clowns could be the source of the fear.
Mr Carpenter said characters such as Pennywise, the murderous clown in Stephen King's novel It, and the evil criminal mastermind the Joker in Batman, had contributed to the view of clowns as "scary".
He said: "We want to say to people 'give us a chance' - we're not all crazed psycho killers.
"We had more and more people saying to us 'keep away, we're scared', so we decided to do something positive about it."
Mr Carpenter said the people coming to the sessions were adults with a "very genuine" fear of clowns.
He said the therapy began with people meeting him without his clown make-up on.
He then gradually puts on the make-up and costume so they can see him become Popol before being invited to join him in the ring to interact without a show going on.
"We try to get people to confront their fears," he said.
"We have to treat them very gently, that's been the most effective way for them to get comfortable with us."