Concerns voiced over future of Hartlebury Common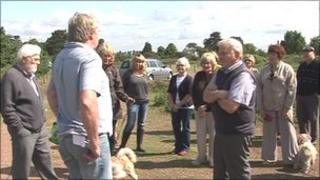 Campaigners have criticised Worcestershire County Council over plans to fell hundreds of trees and introduce grazing to heathland.
Hands off Hartlebury Common said work at the site near Stourport-on-Severn would damage the environment and restrict public access.
The council said people would be able to walk more extensively and it had a "very lengthy consultation process".
The authority has taken a positive approach, Natural England believes.
Monitor results
Steve McCarron, from Hands off Hartlebury Common, described the initiative as "ill thought out" and "poorly executed".
He added: "The cattle will trash it, that's what they will do."
Natural England, the government's advisor on wildlife, said urgent management was needed and grazing was a good and cheap option.
But it added it would monitor the results on the land over the next few years.
Fencing was in place at the site ahead of the grazing of cattle.
Liz Nether, from the council, said: "Once you're on the common, with fewer trees and scrub, people will be able to walk more extensively.
"To get grazing, we needed to fence the common and because it is common land, we had to apply to the government Planning Inspectorate for permission.
"We had a very lengthy consultation process with the public."
Hartlebury Common is protected by law as a site of Special Scientific Interest.
Legally the council must ensure trees and shrubs are kept to a minimum.
It was not known whether a fire last month, in which 1,000 sq m of heathland was scorched, was started deliberately.