Monkwood sightings for Dingy Skipper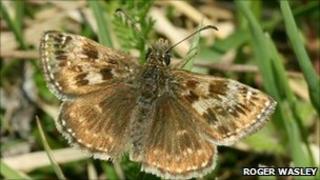 A species of butterfly has been spotted in an area of Worcestershire after an absence of several years.
Dingy Skippers have been recorded by the Worcestershire Wildlife Trust in Monkwood. They were last seen there in 1995.
A spokesman said the butterfly numbers had been increasing in other areas, such as the Wyre Forest, for some time.
He said the species had suffered "serious decline" nationally.
James Hitchcock, conservation officer, said Dingy Skippers were still only found in a handful of sites in Worcestershire.
"With the warm springs of the last few years, we have seen Dingy Skippers flying in good numbers elsewhere in the county and there have been promising signs of natural spread and re-colonisation," he said.
The trust has spent the last two years working with the West Midlands Butterfly Conservation groups to improve the woodland habitat in Monkwood for butterflies, he added.