Old trees in Hanbury Woods save by clearance programme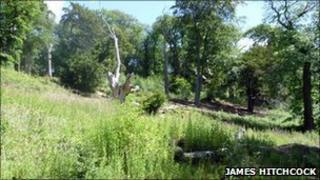 Veteran trees in a Worcestershire wood have been saved by a clearance programme.
Hanbury Woods has more than 250 veteran trees that were in danger of being choked by younger trees.
James Hitchcock, from Worcestershire Wildlife Trust, said other plants had also benefited from the clearance.
"In one of the cleared glade areas over 12 species of plant are now growing on what had previously been bare earth," he said.
The veteran trees also provide a home for insects that live on dead or decaying wood.
The woodland consists of two old commons, Piper's Hill and Dodderhill, which were once a parkland-like landscape.
The veteran trees grew with space around them and livestock grazed underneath them.
Mr Hitchcock said: "We're now working to see how we can re-introduce cattle grazing to the nature reserve to replicate the original conditions and help wildlife and flora even further."
The project has been running for eight years, and was part funded by Biffaward, a fund which awards grants to community and environmental projects across the UK.