'Missing' honeymoon couple found safe in Canada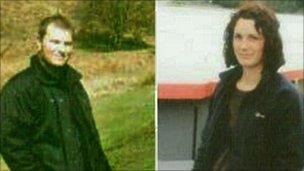 A honeymooning couple who inadvertently triggered an international missing persons case have been found safe and unaware of any concerns about them.
Ben and Caroline Davies, from near Leintwardine, Herefordshire, were expected home from Canada last week and were last in contact on 22 June.
The family of the couple, who had been exploring the countryside in a camper van, raised the alarm on Sunday.
Canadian police said they were found camping and unaware of concerns.
A journalist in British Columbia, assistant city editor at The Province David Carrigg, said they were found on Tuesday morning Vancouver time.
He said they were spotted driving in an area about two hours north of Vancouver.
Mr Carrigg said: "The police take it very seriously when people go missing.
"[That's because] more often than not they end up dying, whether it be by bear or misadventure.
"The fear in this case was that they were going to go white water rafting with some friends, which is also a deadly pursuit."
The couple had been exploring the countryside near the town of Smithers in British Columbia and concerns were not raised initially as they are experienced campers.
West Mercia Police later confirmed they had been put on their missing persons list.
Related Internet Links
The BBC is not responsible for the content of external sites.