Tenbury Wells traders reassured over Teme bridge closure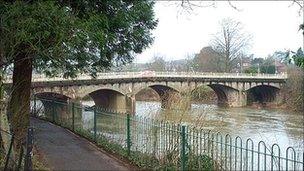 Worcestershire County Council is addressing fears that trade will be lost when a bridge closes for repairs.
Business owners in Tenbury Wells fear shoppers will stay away when the Teme Bridge shuts in January 2012 and not return to the town.
The bridge will shut for maintenance and a date for its reopening has not yet been given.
Tenbury Wells councillor Ken Pollock said he could assure residents there would always be access.
A temporary footbridge will be installed for pedestrians and cyclists, he said.
"The road closures will not commence until the New year, which will leave access to the town unimpeded for the Christmas trading period," he said.
A delivery survey is being carried out so the council can understand business needs and make sure suppliers are aware of the temporary arrangements, he said.
A public briefing will be held in September.
The Teme Bridge links Tenbury Wells with the Shropshire village of Burford and is a listed heritage structure, parts of which date back to 1390.
Related Internet Links
The BBC is not responsible for the content of external sites.