Kearan Tongue-Gibbs: the boy spin bowler with no hands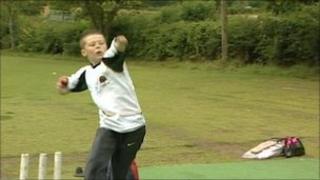 A young cricketer born with no hands or forearms has had practice facilities installed in his garden by a charity.
Kearan Tongue-Gibbs, 11, from Redditch, is a spin bowler who grips the ball in the fold of his arm.
He has been identified as a talented young disabilities player by the England and Wales Cricket Board.
Volunteers from WellChild's Helping Hands project have cleared a space in Kearan's back garden and installed cricket nets.
Kearan, who uses no artificial aids when batting and bowling, plays alongside able-bodied children at Walkwood Middle School and at Astwood Bank Cricket Club.
His mother, Carrie, said her son's talent was first noticed when he was playing beach cricket on a family holiday.
"At the time Kearan's uncle was playing cricket for his university and he said that Kearan had a knack for playing and that we should do something about it."
Kearan lists England batsmen Ian Bell and Jonathan Trott among his cricketing heroes.
He regularly attends special training sessions for cricketers with disabilities at Edgbaston cricket ground in Birmingham.