'Medieval' skeletons found in Kempsey flood defence work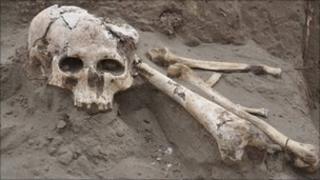 Eight skeletons have been found in a Worcestershire village where flood defences are being built.
About 12 graves were found in Kempsey by the Environment Agency when they were digging trial trenches as part of an archaeological excavation.
The skeletons, thought to be medieval, are being exhumed and the remains will be recorded before they are reburied.
It is thought that the bodies were originally buried at St James Church, which was built in the Norman period.
Ed Wilson, senior archaeologist for the Environment Agency, said it was thought the burial ground had changed shape and the latest discovery would help experts determine when this happened.
He said: "This work has provided an opportunity to reveal more of the story of Kempsey and its population."
In 1954, two skeletons thought to be victims of a battle during the English Civil War, were found to the west of the church by archaeologists.