Wojciech Jasinski: Polish priest's bones removal case dropped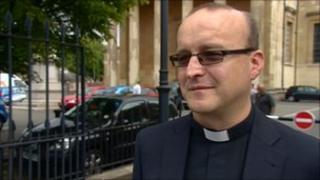 A priest accused of illegally removing a boy's bones from a grave has had the charges against him dropped.
Father Wojciech Jasinski, of the Marian Fathers, had been accused of illegally moving the bones of a 14-year-old boy.
He said he thought it was morally right to move the boy's bones from Herefordshire to be with his mother's in Oxfordshire.
A judge at Worcester Crown Court decided there was insufficient evidence for a jury to convict him.
He had been charged with illegally removing a corpse from a grave.
The 14-year-old boy was Witold Orlowski, a Polish boy who escaped from the country during World War II and travelled to Mexico, with his mother Zofia.
Whilst in Mexico he encountered a sick priest, Jozef Jarzebowski.
Witold prayed to God to take his life rather than that of the priest. He died and Fr Jarzebowski lived, eventually moving to Herefordshire. Witold became a hero among other members of his faith.
Fr Jasinski said: "Witold's mother came here after the war to work at a school set up by Father Jarzebowski and brought her son's remains with her."
He was buried at the former St Raphael's Convent in Bullingham, Herefordshire.
Zofia eventually moved to Henley-on-Thames, where she died, and where Witold's bones were moved to by Fr Jasinski who said he took them so the boy could be reburied with his mother.
"The main reason I decided to make the removal was to fulfil the wishes of the mother, to make her happy," he said.
The boy's bones now lie with his mother's in Henley-on-Thames.
Fr Jasinski said he was now returning to Rome, where he lives.